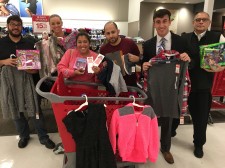 DALLAS, November 10, 2017 (Newswire.com) - Associates at Golden Events Group are determined to support a different nonprofit every month. The firm's Director discussed the importance of organizational goals, and the causes that the company has already supported.
"Our team is big on being able to give to the community. We know our business would not run without community support, so whenever we can give back we definitely want to!" declared Kaitlin, Golden Events Group's Director of Operations. "I think it also creates a culture of positivity and human betterment by helping our people feel like they are helping others and benefiting the less fortunate."
Our team is big on being able to give to the community. We know our business would not run without community support, so whenever we can give back we definitely want to!

Kaitlin, Director of Operations
Kaitlin's perspective on generosity has encouraged Golden Events Group team members to set a goal for giving to one nonprofit every month. The company has a specific charitable events committee that oversees the process of finding nonprofits and foundations that could use the firm's support. Then, the group commits to donating time, money, items, or a combination of these things.
"I think allowing the team to be a part of something bigger and add value to other people and organizations helps them feel a sense of fulfillment," Kaitlin stated. "As a team, we are very motivated by the thought of volunteering to help different organizations and giving back to the Dallas community."
Golden Events Group's Director Shows How Goals Make a Positive Impact on Community Giveback
The Director sets goals for every area of the company that matters, including sales, revenue, growth, and even number of associates promoted to leadership positions. This goal-oriented approach also applies to charitable giving and the amount of time, money, and items donated to community giveback efforts.
"Setting a goal to support one cause a month has been very motivating for our team, and we hope to invest in a couple new groups this year based on some new team member interests," Kaitlin shared. "The organizations we've been able to help the most on a recurring basis are the Ronald McDonald House, our local Women's Shelter, and the Dallas school system. We chose these due to the specific interests of our team members, but also because every time we go the kids and women are so thankful and really get a lot of enjoyment out of our time there."
The firm's giveback efforts include making Valentine's Day cards and hosting a movie night for families at the Ronald McDonald House and donating school supplies. Also, the team raised $300 for Susan G. Komen and have donated over $1,000 worth of items to the women's shelter.
"We truly appreciate the success we've enjoyed by being a part of the Dallas community, and we're excited about giving back and donating whatever is needed to the worthwhile causes in our area," explained Kaitlin. "I'm looking forward to continuing our efforts with the groups we already support and identifying new volunteer opportunities."
About Golden Events Group, Inc.
Golden Events Group, Inc. is known for memorable dynamic sales promotions that drive awareness, buyer loyalty, and rapid growth in new markets. The firm's advertising experts manage this through in-depth research and analysis, as well as flawless campaign launch. Team members at Golden Events Group, Inc. know how to fully engage the public to boost revenue for brands. This has led to impressive growth, with the firm poised for further expansion. To learn more about their services, visit goldeneventsgroupinc.com.
Source: Golden Events Group
Share: